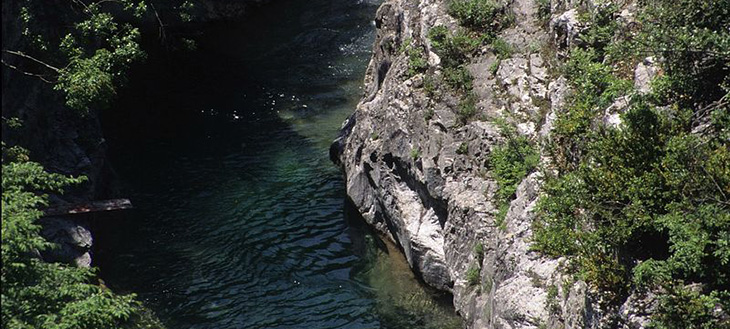 MOUNTAIN ROUTE LITOCHORO – PRIONIA
The international hiking path E4 starts in the area of Myloi (400 m) and is one of the entrances into the National Park from the town of Litochoro (25 km from Platamonas). The path passes through the stunning Enipea Canyon and is well preserved with clear markings and informative signs. After many ascents and descents the path ends in Prionia at Enipea springs (1100 m). The path starts along Enipea Canyon to the left of the river and half way along the route it crosses the canyon seven times across beautiful wooden bridges thus sometimes having the river on the right and others on the left. In the second half of the route is Agio Spilaio where Saint Dionysios lived as an ascetic and then after another 20 minutes or so the path reaches Agios Dionysios Monastery which is well worth a visit and is open from April to October. Leaving the monastery behind and continuing along the path after approximately 10 minutes the path begins to descend to the left and after a few minutes arrives at the spectacular Enipea waterfalls. The route is quite tiring due to the ascents and descents, but the varied geological features, the small lakes with crystal waters and the sheer mountain slopes provide a rare beauty and entirely reward the visitor. The route can also be done in the reverse direction arriving at Prionia  (38 km from Platamonas) or Agios Dionysios Monastery by car and starting out from there.
There are many hiking routes on Mount Olympus, but due to the special nature of the mountain which has been declared a Protected Natural Area – National Park, only the most well established have been selected and proposed. The routes that lead to the heart of the National Park (Livadaki – Kalogeros – Baras Plateau – Mavrolongos) are not mentioned in an effort to ensure the protection of the natural environment in accordance with the current legislation. For more hiking routes vistit the link  http://www.olympusfd.gr/us/Diadromes.asp
Platamonas rooms Vaya Apartments & Studios – wishing you good paths in nature.